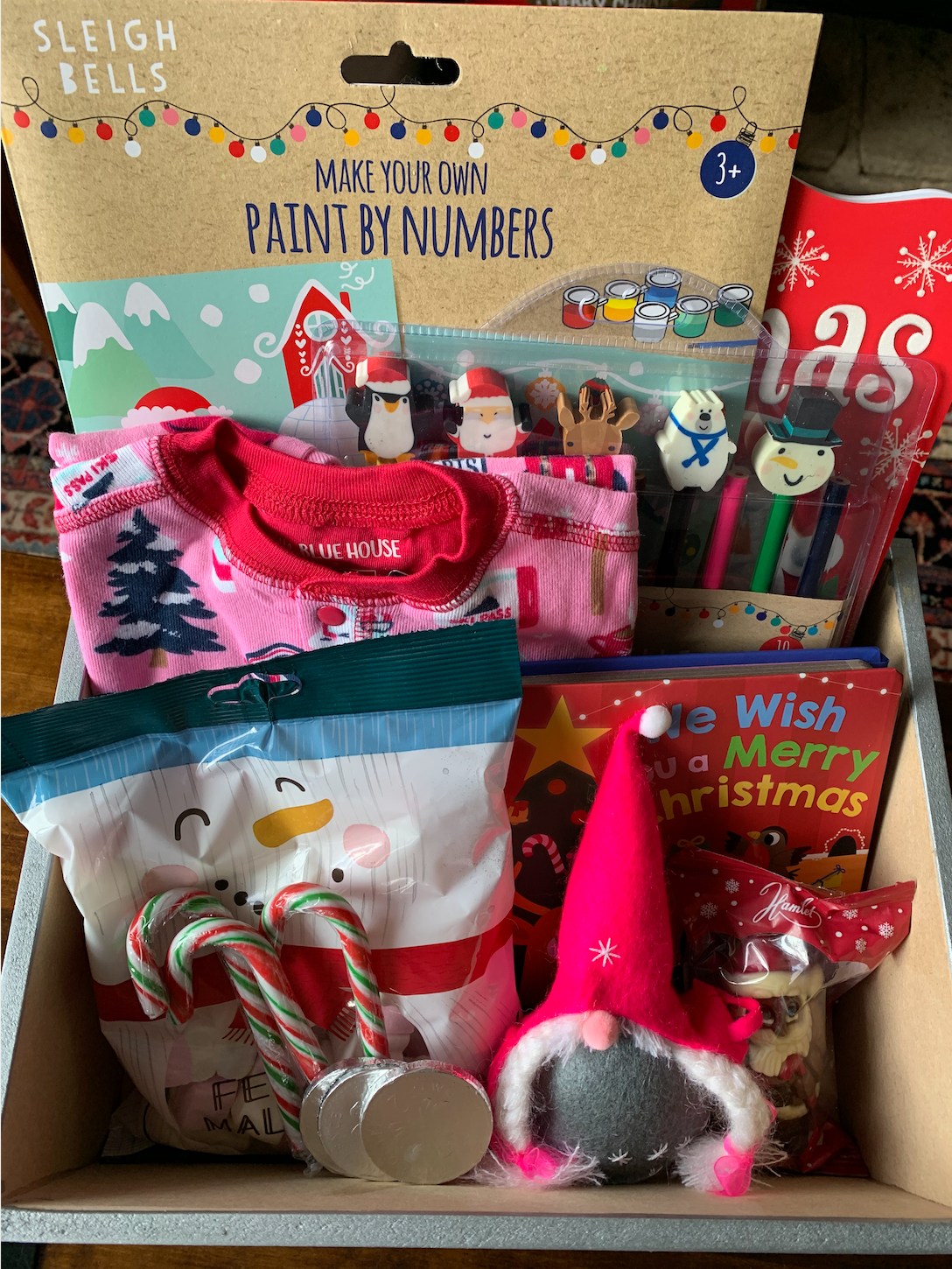 Our Christmas Eve Boxes
Christmas Eve boxes
For the last few years, I have been making my kids' Christmas Eve boxes for the family to enjoy on the evening before Christmas. We don't do stockings so the boxes are opened after dinner. 
 I have romantic notions of us all sitting around the tree with a roaring fire enjoying each other's company and making special family memories. In reality it's a bit of a sh*t show with kids hyped up on sugar and ripping open the boxes. One child inevitably is crying (Georgia) and the others playing with someone else's toys (James).
There is a misconception that these boxes are expensive. They can in fact be done to any budget. I prefer to keep mine cheap and cheerful as we all know that Christmas can place a financial strain on the family budget.
Being the ridiculously organised person that I am, I like to start picking up bits throughout the year. If you're really savvy, buy your bits in the January sales when every company is trying to get rid of their Christmas stock and mark it right down. Bargain bins are great for this!
I like to put in some arts and crafts bits, a new pair of pjs, some chocolates, a book and a new Christmas decoration. Most of the arty bits won't get used that night but come in handy on Christmas Day when you're trying to cook or in that post meal lull where all you want to do is sit on the sofa with a glass of Baileys and relax. 
Here's how I put mine together. 
The boxes.
I've had wooden boxes made for my kids so they can use them each year, but a lot of stores do cardboard boxes which you can pick up easily. Kids can even make their own from a shoe box or an amazon box as a fun project. Etsy is a great place to fine the more personalised items.
Activities
A lot of the discount stores have a really fantastic (and cheap) range of Christmas colouring in books, sticker books and paint by numbers books. I even managed to pick up some cute Christmas themed stamps this year which I know I will deeply regret within about 4 seconds of them being opened. 
I have young children, so have tailored my boxes to their age and tastes but these boxes can really contain anything you like.
Treats & Christmas decorations
What's Christmas without some Chocolate? I tend to keep the treats to a minimum as we all over-eat over the Christmas period.  But a chocolate Santa, some chocolate coins and a few candy canes generally do the trick.
Also adding in a Christmas decoration is a really nice way to add special bits to your collection but also starts the collection for your children's' future trees. I'm all about making memories!
Pyjamas
This is a big one for me as I love my kids in matching pjs on Christmas day! Now these don't specifically have to be Christmas pyjamas but if they are, I tend to buy them a size bigger so they can wear them again in November and December the next year. 
This year I have chosen our Little Blue House Union Suits as they are a gorgeous fun print and come in bigger sizes so can be worn next year. 
Family boxes
There is no rule to say that each child must have their own box. I also like to do a family box that contains all the bits to make a festive hot chocolate, our trusty old Michael Buble Christmas CD, a bottle of Baileys (for me) and some chunky M&S cookies….. (also for me). Marshmallows, candy canes and some whipped cream. 
You can also add in a new board game or depending on the age of your kids some playing cards. 
The best thing about these boxes is that the whole ethos is around spending time together as a family and enjoying the evening. Snuggling down together on the sofa and watching an old Christmas movie together as a family. Those of you with babies and toddlers will be laughing hysterically now at the prospect of everyone sitting still long enough to watch a movie together but maybe, just maybe, we will get our Christmas miracle. 
Kelly xxxx